In order to get the most out of GIS data, it has to be accessible. Having the GIS data available via the web allows it to be accessed at any time and any place using common standard web browsers. Custom web development allows the web-based GIS system to provide specific solutions.
There is a multitude of GIS applications that can address economic, environmental and cultural issues. Everything from long-term land development plans and site designs, to delivery of services such as emergency health care and infrastructure repairs can be enhanced with clearer information from GIS sources.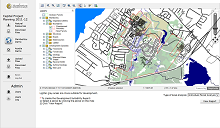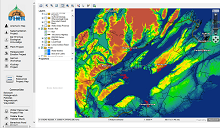 Some of the advantages of web-based GIS include:
The GIS data is in a dynamic map format and can be included in various presentations and reports.
The web-based GIS can incorporate other data sources, including non-spatial data, in order to present the most useful and relevant information.
Ability to interact with the application simultaneously, allowing coordinated work to be done.
GIS data is derived from data residing on networked GIS systems, so the web-based GIS can act as an extension of these.
Web-based GIS data is in one convenient central location, it is continually backed up, so no data can be lost.
For example, an organization overseeing natural resources has collected data on species habitat. To organize and present this data in order to make better informed decisions regarding the management of this resource, the secure web-based GIS solution brings together data on the study area including satellite imagery, digital elevation models, hydrography, and all pertinent human settlement and road data.
There are many other advantages of having a web-based GIS site, including:
MGS provides custom development of versatile data-driven web applications. For example: project tracking, client requests, event registration, etc.
Video and other multimedia can be accessed for a more informative and dynamic experience.
Projects can be managed via the web so project teams are updated in real time.
The web applications can provide valuable reporting and statistical analysis.
Web-based GIS can be customized with client branding.
MGS provides several options on hosting and maintenance of the data.